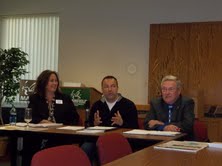 Wisconsin Tourism Secretary Stephanie Klett made a stop in Marshfield Monday afternoon for a town-hall style meeting.
Central Wisconsin's tourism industry is thriving according to Klett who says, "Wood County, for example, has had a really wonderful 2011 in terms of travel expenditures. From 2010 to 2011 they were up 4.5% and the travel expenditures were 78.6 million dollars. That's huge."
Klett also reported that in 2011, tourism returned six-dollars in state and local taxes for every dollar the state used to market Wisconsin tourism. The Department of Tourism achieved the goals of their 4-year strategic plan in the first year-and-a-half of it's implementation, even though it operates on only 1/3 the budget of surrounding states like Michigan and Wisconsin.