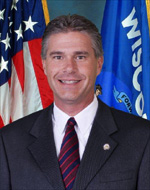 MADISON, WI (WSAU) - Wisconsin's Attorney General wasted no time saying he will appeal the ruling of Honorable Juan Colas of Dane County Circuit Court. Colas ruled Friday in favor of Madison teachers who sought to have Wisconsin Act 10 ruled unconstitutional. Act 10 is the new Wisconsin law that took many of the unions bargaining powers away, and caused many protests at the Capitol and prompted unions and Democrats to attempt a recall of Governor Scott Walker.
Attorney General J.B. Van Hollen released the following statement: "We believe that Act 10 is constitutional in all respects and will be appealing this decision. We also will be seeking a stay of Friday's decision pending appeal in order to allow the law to continue in effect as it has for more than a year while the appellate courts address the legal issues."
In Judge Colas Friday decision, he sided with arguments from the Madison Teachers union and the Milwaukee AFL-CIO chapter, who claim the collective bargaining law infringes on their right to free speech and association, along with violations of the equal protections clause of the constitution. His ruling also found the law violates Milwaukee's home rule rights and the contract rights of city employees, and the legislative process denied workers of property without due process.
Governor Scott Walker responded quickly Friday after the judge's ruling with the following statement: "The people of Wisconsin clearly spoke on June 5th. Now, they are ready to move on. Sadly a liberal activist judge in Dane County wants to go backwards and take away the lawmaking responsibilities of the legislature and the governor. We are confident that the state will ultimately prevail in the appeals process."
It is unknown how long it will take Van Hollen's staff to prepare and file the formal appeal.