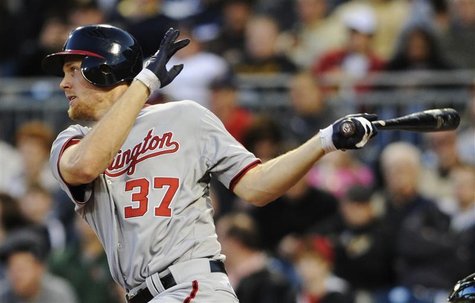 (Reuters) - Washington pitcher Stephen Strasburg may read warning labels a little closer in future after some 'Hot Stuff' heat rub ointment got on "the wrong place" and made Tuesday's outing on the mound an uncomfortable one.
Strasburg, one of the most promising young pitchers in Major League Baseball, allowed four runs in a 6-1 defeat to the San Diego Padres, the 23-year-old fidgeting his way through four irritating innings on the way to his first loss of the season.
Nationals manager Davey Johnson told reporters the ointment had rubbed Strasburg the wrong way.
"Somehow it got in the wrong place," Johnson told reporters. "I don't know all the details. Not an ideal way to start."
Strasburg, who fell to 3-1 on the season, was reluctant to offer details.
"Yeah, let's keep that in the clubhouse," he said.
The No. 1 overall pick in the 2009 Draft is making his way back from elbow surgery in 2010 that kept him out for a year.
(Writing by Jahmal Corner in Los Angeles; Editing by Peter Rutherford)