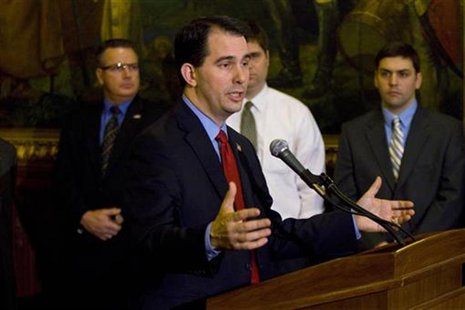 MADISON, Wis. (WSAU) - Let's keep our family squabbles to ourselves.
That, in essence, is what Governor Scott Walker told the four Republican U-S Senate candidates today. He told reporters that he wished Tommy Thompson, Eric Hovde, Mark Neumann, and Jeff Fitzgerald would put out positive messages instead of attacking each other – which has become increasingly common with their primary just two weeks away.
Fitzgerald, the state Assembly speaker, has shied away from the partisan sniping – but he's also running last in the polls, and he's the only G-O-P candidate not to run a T-V ad yet. Meanwhile, Thompson, Hovde, and Neumann have been sparring about things like each other's ties to the Obama stimulus program – and the stands they took in their previous government positions.
Walker said he would not publicly support any of the primary hopefuls, but he vowed to be a referee if the campaign were to get nasty. And today, the governor said he's getting close to dropping a flag. Walker said the candidates should focus on their differences between them and Democratic nominee Tammy Baldwin. The governor called those differences "substantial and important."
Walker said he's told people around the country that Wisconsin has four "extremely qualified" Republican candidates for the U-S Senate – and any of them would do a "tremendous job."