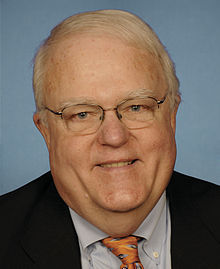 WASHINGTON, DC (WSAU) - Wisconsin Congressman Jim Sensenbrenner has offered a strong defense of an aide to Secretary of State Hillary Clinton.
Citing the First Amendment, Sensenbrenner rejected suspicions first voiced by fellow Republican Michele Bachman last week. The Minnesota congresswoman said she had suspicions Clinton aide Huma Abedin, a Muslim, had ties to the Muslim Brotherhood.
Sensenbrenner said the First Amendment prohibits the federal government from making a distinction between what is a "good religion" and what is a "bad religion." Sensenbrenner was reacting to comments from a constituent at a town hall meet held yesterday.