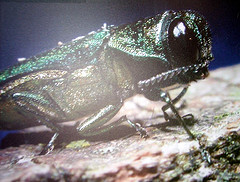 MILWAUKEE, Wis (WSAU) - The tree-killing emerald ash borer has turned up in Milwaukee.
Mayor Tom Barrett held a news conference this morning in the Menomonee River Hills neighborhood on the northwest side, where several trees had severe infestation. The ash borer has killed tens of millions of ash trees in the eastern U-S and Canada over the past decade. There have been a number of smaller infestations in the Badger State. But the two largest groups are still along the Mississippi River south of La Crosse – and Newburg in Ozaukee and Washington counties, where the green bug's presence was first confirmed in Wisconsin in 2008.
State agriculture officials confirmed the ash borer's presence in Milwaukee. David Sivyer, the city's forestry service manager, says the drought made the problem worse than it could have been – even though ash trees which were treated close to the Milwaukee infestation did not get the bug.
Sivyer said the city has taken steps to protect over 27-thousand ash trees which are at the biggest risk. And he urged residents to help stop the ash borer from spreading by removing and replacing their ash trees. Milwaukee has an estimated total of around 587-thousand ash trees. Wisconsin is estimated to have well over 700-million of them.
Last month, the ash borer turned up in Waukesha County for the first time in Mukwonago. The pest was also collected last month in Rock County, it's been spotted in 11 counties in all. Discoveries are often made in traps set by the state each year.