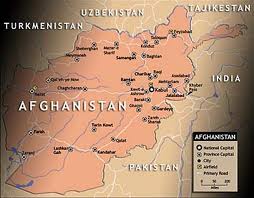 KABUL, AFGHANISTAN (WSAU) - A Marshfield man enjoys a challenging U.S. State Department job half way around the world.
Marvin Hardinger is a political officer who works closely with local and regional Shura council governments in Afghanistan and also with many of their citizens. He says many of the Afghan people have similar issues and concerns as we do, including making better government and improving agriculture.
Many of the people he works with are directly involved in agriculture, just like here in Wisconsin. Marketing Afghan farm crops is more localized than Wisconsin, but Hardinger says efforts are being made to expand and perhaps get back to some export sales.
Hardinger says he does not see the daily fighting and violence experienced in some of the northern provinces. "The gentlemen there are very open about their views, and sometimes very forceful on their views. I've worked here. This is my fourth year in Afghanistan and all of the Shura (councils) I've sat in, I've never seen one act of violence, but I have seen very good political debate about local issues and a desire for more national support."
Like Wisconsin, Afghanistan has a large summer corn crop followed by winter wheat. They also produce pomegranates and they pride themselves on introducing raisins to America many years ago.
Many of the Afghan people remember the excellent working relationship with the United States from the 1950's through the 1970's, and would like to return to that level of cooperation.
If you would like to hear the entire interview with Marvin Hardinger, you will find a podcast at WSAU.COM in our Newsmakers section.