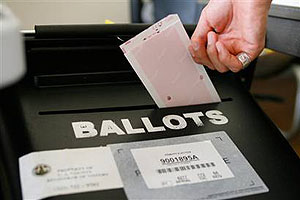 UNDATED (WSAU) - In the 85th assembly running for Donna Seidel's seat, Political newcomer Mandy Wright wins out over Marathon County democrat chair Jeff Johnson Wright took 61 percent of the vote over Jeff Johnson's 39 percent. Mandy Wright will now take on Republican Pat Snyder in the November elections.
In the 86th assembly, running for Jerry Petrowski's seat, John Spiros beat Wayne Thorson 74 to 26 percent. Spiros will now take on former Everest Metro detective Dennis Halkowski
In the 71st district, running for Assemblyman Louis Molepske's seat, Katrina Shankland defeated Corey Ladick by 50-votes, 28 to 27 percent. The winner of that race will take on sole Republican challenger Patrick Testin.
Molepske won the Democrat primary for Portage County District Attorney, defeated assistant DA Veronica Isherwood, 65- to 35-percent.
In the 24th State Senate Republican Primary, Scott Noble is leading Steve Abrahamson 53 to 47 percent with 93% of precints reporting. The winner of that race takes on Democrat incumbent Julie Lassa.