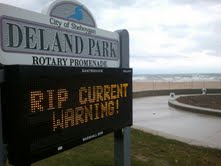 SHEBOYGAN, WI (WSAU) High winds and large waves on Lake Michigan swept three people off a breakwall and into the water off Sheboygan's North Pier yesterday.
A 38 year old Sheboygan woman was rescued, but two men from Sheboygan were missing. They were said to be 21 and 37 years of age. Authorities also helped two other women get off the pier during the dangerous conditions.
All people were cleared off the pier due to the wind. U.S. Coast Guard, drive crews and other emergency responders joined the search just before 3:30 p.m.