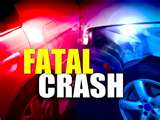 SARATOGA, Wis. (WSAU) – Wood County officials have released the names of the victim and the driver in a accident that killed a one year old on Saturday.
Deputies say one year old Kaidyn Stephens of Saratoga was struck by a vehicle being driven by 41 year old Troy Stephens around 3:15 on Saturday. The child was airlifted to St Joseph's Hospital in Marshfield where he later died.
No charges have been announced in the case, and officials say they're still investigating.