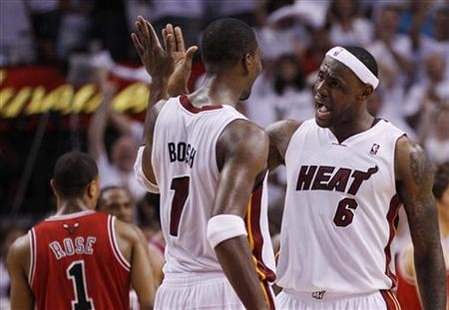 By Simon Evans
MIAMI (Reuters) - Chris Bosh discarded his 'Third Man' label to shoot 34 points and lead Miami to a 96-85 win over the Chicago Bulls on Sunday, giving the Heat a 2-1 lead in the Eastern Conference championship series.
The Bulls paid too much attention to the Heat's usual threats -- Dwyane Wade and LeBron James -- and that allowed more opportunities for Bosh.
The pick and roll between Bosh and Wade was particularly effective for Miami but the difference between previous wins in the playoffs and this victory was the amount of times Bosh was given looks.
Miami, who are now 7-0 at home in this year's playoffs, were on top from the outset and Bosh, after missing his first three shots, was their key man.
"Bosh was terrific from the start of the game, very aggressive and I thought that we allowed him to get his confidence early," said Bulls coach Tim Thibodeau.
"He is hard to slow down once he gets going like that. We gave him too much space, we didn't challenge his shot properly. He had a big night."
With strong defense and Bosh's shooting, Miami never looked in any real danger and led 43-40 at half-time with the Bulls' Derrick Rose failing to make a single assist in the opening two quarters.
Miami coach Erik Spoelstra was delighted with Bosh.
"We run a lot of our offense through him regardless of whether he's getting shots or not," said Spoelstra.
"Tonight dictated something else. We needed him to be aggressive. Easy shots and opportunities in this series are hard to come by. He was able to take the pressure off the other guys, to get some baskets, which helped.
James made 22 points for Miami while Carlos Boozer top scored for Chicago with 26 but the Bulls will have to show significant improvement if they are to avoid going 3-1 down in Tuesday's fourth meeting of the seven-game series.
The Bulls have not lost two games in a row since February but the Heat defense locked them up again. Rose, who scored 20 points in the game, had just two field goal attempts in the fourth quarter.
"We have got to get up and challenge their shots better. We have to finish our defense," said Thibodeau.
The game was tighter though than the scoreline suggests as Miami only broke clear in the latter stages with a 9-0 run including a decisive three-point play from James on a turnover.
"There is absolutely nothing easy in this series and it is all about enduring, sustaining and finding a way to grind it out," said Spoelstra.
"It is a battle, a scrap, a fight every possession. The guys did a good job of that and particularly to find a way to break it open in the last five."
(Editing by Peter Rutherford)