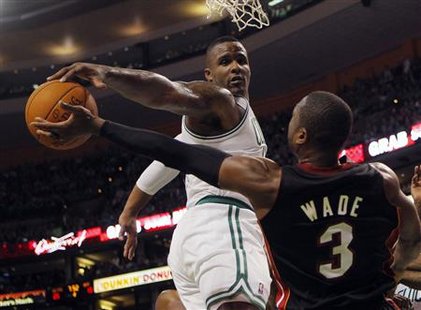 By Steve Ginsburg
BOSTON (Reuters) - The Boston Celtics spoiled the opening act of LeBron James's latest quest for a NBA title by defeating the Miami Heat 88-80 on Tuesday in a highly anticipated match-up of Eastern Conference powerhouses.
James, the two-time MVP who signed with the Heat as a free agent in the off-season after seven seasons with the Cleveland Cavaliers, scored 31 points but had eight turnovers in the season-opener for both teams.
"We all know Rome wasn't built in one day, so it's going to take time, and we understand that," said James, who hit 10 of 21 shots but had trouble finding his rhythm from the outside.
"We have to keep on making progress every day and just continue to get better."
Boston held a comfortable 60-45 lead with three minutes left in the third quarter but James scored nine points during a 12-3 Miami run that cut the Celtics' lead to 63-57.
Miami trimmed their deficit to 68-64 but a lay-in by Glen Davis and a three-pointer by Paul Pierce hiked the lead to 73-64.
James made a driving lay-up with 1:10 left to cut the Heat's deficit to 83-80 but Ray Allen responded with a three-pointer from the corner to hike the lead to 86-80 with 49 seconds remaining and send the crowd into a frenzy.
Miami guard Dwyane Wade, who missed most of the preseason with a hamstring injury, had an awful game, scoring 13 points on four of 16 shots with six turnovers.
Wade admitted he was "a little bit out of rhythm, of course" and appeared undaunted the Heat's season opened with a loss.
"This is one of 82," said Wade. "Sorry if everyone thought we were going to go 82-0. It just ain't happening."
ALLEN SHINES
The Celtics, who shot better and played with greater energy, were led by Allen, who finished with 20 points, and Pierce, who had 19.
"It was a fun game," said Celtics coach Doc Rivers. "They're going to be a lot better when we see them again, and hopefully we are, as well."
James and Chris Bosh, a free agent who also signed in the off-season with Miami, joined Wade with the hope of leading the franchise to its first title since 2006.
While James played well in spots, Wade and Bosh were nothing short of awful at a raucous, sold-out Boston Garden, shooting a combined seven of 27 from the floor.
"We just missed shots," said Bosh, who scored eight points on three of 11 from the field. "Sometimes they go in, sometimes they don't."
Celtics point guard Rajon Rondo scored only four points but had 17 assists for the Eastern Conference champions, whose fans endlessly chanted "over-rated, over-rated" at the Heat players.
Celtics forward Kevin Garnett said the Heat were not "polished" or had "the whole chemistry thing down" -- yet.
"In order for them to get better, they're going to have to continue to go through rough days and dog days, and that's part of it," he said. "Lord knows we went through ours, and we learned from it, and I'm pretty sure they'll do the same."
Boston will visit the Cavaliers on Wednesday, while the Heat will be in Philadelphia to face the 76ers.
(Editing by Greg Stutchbury)